News:

Gift ideas for dancers and dance lovers...
Looking for some present buying inspiration? We've got a few ideas for gifts with dance appeal….
American photographer Lois Greenfield has been capturing movement for over 40 years. In the 17 years since her last book was published, Greenfield has moved into digital colour photography, and some 150 of these breathtaking images are reproduced in Moving Still, (pictured above) featuring leading contemporary dancers and well-known dance companies. Produced in collaboration with writer and curator William A. Ewing
RRP £39.95 from Thames and Hudson – or buy on Amazon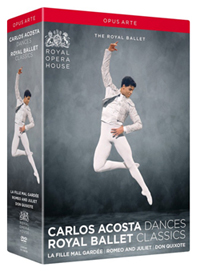 As ballet superstar Carlos Acosta has just retired from the Royal Ballet, here's a new box set of three of the ballets he's performed in many times in his 17 years at the Royal Opera House: his own production of Don Quixote (2013), La Fille Mal gardée (2005) – both with Marianela Nuñez and Romeo and Juliet (2007), with Tamara Rojo.
RRP: £29.99 from the ROH shop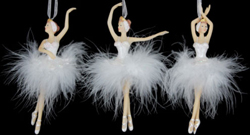 The Royal Academy of Dance have a nice range of Christmas decorations – one of these feathery ballerinas might foist the traditional fairy from the top of our tree…
£7.50 from www.radenterprises.co.uk


Gift memberships
Give the gift that keeps giving with a membership to one of the dance presenting venues around London. Sadler's Wells have a variety of offers, with memberships starting at £55. Or check out the Royal Opera House , English National Ballet or East London venue Rich Mix – all offer memberships, with perks ranging from access to dress rehearsals and preview events to free and discounted food or drink and more.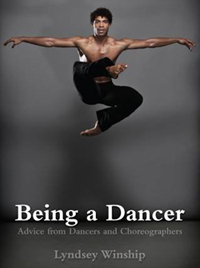 Packed with useful advice from 25 well known dancers and choreographers, Lyndsey Winship's book Being A Dancer would be a great gift (and yes, there's that well known Cuban ballet star on the cover!) "Although the book will be most useful for dance students and young dancers starting out in their careers, I hope there's plenty to interest the wider reader, whether that's discovering the rituals and dramas of the dance world, getting an insight into the working lives of some of the world's top performers, or being inspired by their stories of discipline, resilience and motivation – things we could all use a bit of in our lives," she told us in a preview earlier this year.
Take advantage of our discount code and get your copy for just £7.49 (25% off the rrp) plus free UK p&p – quote LONDONDANCE when purchasing via www.nickhernbooks.co.uk. (Valid until 31 December 2015)


Get moving
An introductory voucher to take a dance class might be a great way to kick start the New Year! Danceworks, Pineapple Dance Studio and City Academy, are just a few London based class providers offering gift cards.
RRP: From £20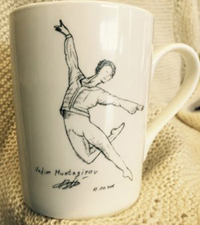 The new industry body for dance, One Dance UK, has a new mug, with a self portrait designed by Royal Ballet Principal Vadim Muntagirov. If you'd like a a pair, last year's edition, designed by English National Ballet's Artistic Director and Principal dancer Tamara Rojo is still in stock.
The online price, £13.15, includes postage, packing and a donation supporting One Dance UK – or pop in to their offices in SE16 to collect.
www.danceuk.org/shop/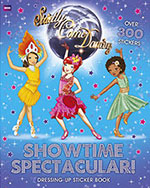 Well it wouldn't be Christmas without something Strictly would it – how about this Strictly Come Dancing: Showtime Spectacular Sticker Book? With 300 stickers should keep any five year old busy until at least lunchtime!
£5.99 from the BBC Shop



If you're still looking for inspiration, check out our the dance retailers listed in our Directory for more ideas…
Leave a comment
You must be signed in to post comments.